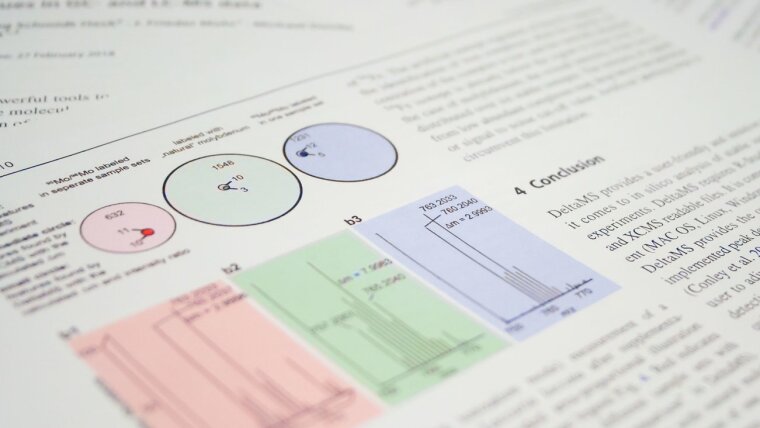 2023

2022

2021

2020

2019

2018

2017

2016

2013

2012

2011
2020

T. Baumeister, N. Ueberschaar, G. Pohnert, "Gas Phase Chemistry in the GC Orbitrap Mass Spectrometer", DGMS, Münster, Germany, 03-2020.

2018

N. Ueberschaar, "Die Verwendung der Q Exactive GC in einem Grundlagen Labor" Thermo Fisher Scientific User Meeting, Leipzig, Germany 03-2018.

2017

N. Ueberschaar, "New Possibilities in (Eco) Metabolomics using Compound Discoverer 2.1" Thermo Fisher Scientific Compound Discoverer User Meeting, Bremen, Germany 12-2017.

2016

N. Ueberschaar, F. Meyer, H. M. Dahse, C. Hertweck, "Bipiperidine conjugates as soluble sugar surrogates in DNA-intercalating antiproliferative polyketides" Leibniz Meeting on Bioactive Compounds, Jena, Germany, 04-2016.

2014

N. Ueberschaar, V.-N. Roth, V. Schwab-Lavric, G. Gleixner, G. Pohnert, The Earths Critical Zone: Understanding the Subsurface Hydro-Geo-Chemistry Using Metabolomic Profiling, Trends in Metabolomics - Analytics and Applications, Frankfurt a.M., Germany, 06-2014.

2011

N. Ueberschaar, "Chemo-Bio Synthesis of Chartreusin Analogues", 42. Doktorandenworkshop Naturstoffe: Chemie, Biologie und Ökologie, Bayreuth, Germany, 10-2011.
2020

T. Baumeister, N. Ueberschaar, W. Schmidt-Heck, J.-F. Mohr, M. Deicke, T. Wichard, R. Guthke, G. Pohnert, "DeltaMS - A Convenient tool to track isotopologues in GC/LC MS data", DGMS, Münster, Germany, 03-2020.

2019

T. Baumeister, N. Ueberschaar, G. Pohnert, "Gas Phase Chemistry in the GC Orbitrap Mass Spectrometer", Anakon, Münster, Germany, 03-2019.

2016

T. Baumeister, N. Ueberschaar, W. Schmidt-Heck, J.-F. Mohr, M. Deicke, T. Wichard, R. Guthke, G. Pohnert, "DeltaMS - A Convenient tool to track isotopologues in GC/LC MS data", ASMS, Indianapolis, IN, US, 06-2016.

N. Ueberschaar, K. Lehmann, A. Schmalwasser, S. Meyer, B. Michalzik, K. U. Totsche, G. Pohnert, "Evaluation and application of lysimeters for untargeted soil solution analytics and marker identification", ASMS, Indianapolis, IN, US, 06-2016.

2015

N. Ueberschaar, V.-N. Roth, V. Schwab-Lavric, G. Gleixner, G. Pohnert, The Earths Critical Zone: Understanding the Subsurface Hydro-Geo-Chemistry Using Metabolomic Profiling, ANAKON, Graz, Austria, 2015.

J. Mori, N. Ueberschaar, S. Lu, G. Pohnert, K. Küsel, Chemical Communication between Bacteria Isolated from Iron-rich Lake Aggregates (Iron Snow), 5th MICOM, Jena, 04-2015.

Mori, N. Ueberschaar, S. Lu, G. Pohnert, K. Küsel, Chemical Communication between Bacteria Isolated from Iron-rich Lake Aggregates (Iron Snow), Gordon Research Conference: "Microbes that Influence, Sustain and Protect Our Planet", South Hadley, MA, US,  2015.

N. Ueberschaar, C. Lazar, V. Schwab, K. Küsel, G. Pohnert, "Understanding Chemotrophy of Bacteria in the Earths Critical Zone with Metabolomics Tools and Stable Isotope Labeling", European Conference on Natural Products, Frankfurt a.M., Germany, 09-2015.

T. Baumeister, N. Ueberschaar, L. Straub, G. Pohnert, "Assigning natural bacterial metabolites to their producers in groundwater", European Conference on Natural Products, Frankfurt a.M., Germany, 09-2015.

2014

N. Ueberschaar, V.-N. Roth, V. Schwab-Lavric, G. Gleixner, G. Pohnert, The Earths Critical Zone: Understanding the Subsurface Hydro-Geo-Chemistry Using Metabolomic Profiling, ORCHEM 2014, Weimar, Germany, 09-2014.

2013

N. Ueberschaar, "Rational Design of an Apoptosis-Inducing Photoreactive DNA Intercalator", 1st European Conference of Natural Products, Frankfurt a.M., Germany, 09-2013.

N. Ueberschaar, "Rational Design of an Apoptosis-Inducing Photoreactive DNA Intercalator", VAAM Meting, Frankfurt a.M. , 09-2013 (including poster price)