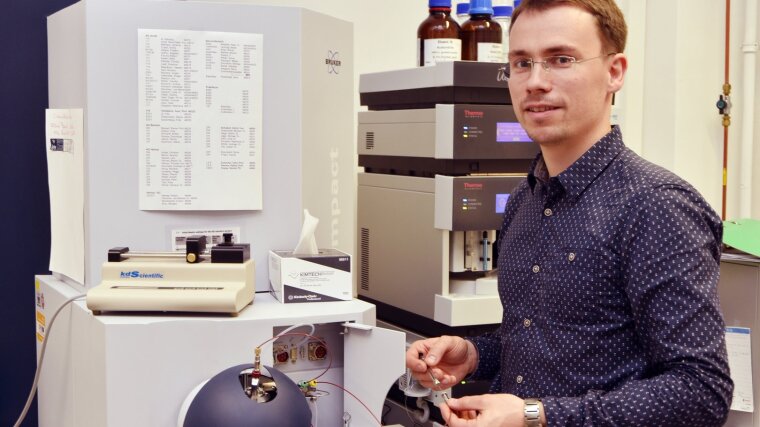 Dr. Nico Ueberschaar
Dr. Nico Ueberschaar (Porträt2)
Nico Ueberschaar was born 1984 in Jena, Germany. After qualification for university entrance at the Carl-Zeiss-Gymnasium, Jena in 2003 with focus on chemistry he successfully completed his civilian service in the university clinic in Jena at the department for hematology. He studied Chemistry at the University of Jena where he was funded from the Studienstiftung des deutschen Volkes. The finished his Diploma thesis entitled "Semisynthesis of Chartreusin‐Derivatives" at the Leibniz Institute for Natural Product Research and Infection Biology e. V. Hans-Knöll-Institute (HKI) joining the group of Prof. Christian Hertweck. He followed up his research in that topic during his Ph.D. thesis in the same workgroup where he focused besides chemical synthesis with increasing demand on analytical chemistry. He finished his thesis entitled "Mutasynthesis and characterization of antitumoral drugs from streptomycetes" in 2015 with "summa cum laude". For his Post Doc he moved to the lab of Prof. Georg Pohnert in Jena where he was member of the Collaborative Research Center CRC 1076 "AquaDiva". Using methods from metabolomics he studied water sampled from the earths critical zone.
Since 2017 Nico Ueberschaar is the head of the mass spectrometry platform of the Faculty of Chemistry and Earth Sciences of the FSU.
Nico Ueberschaar is member of the Gesellschaft Deutscher Chemiker e. V. (GDCh), including Fachgruppe Analytische Chemie within the GDCh, as well as a Member of the Deutschen Gesellschaft für Massenspektrometrie (DGMS).